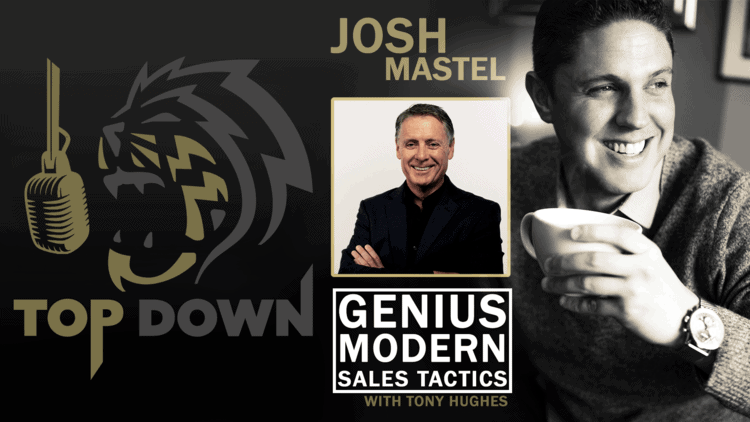 Tony J. Hughes is the CEO and Managing Director of RSVP Selling and author of multiple books, including Combo Prospecting. As a best-selling author and award-winning blogger, Tony is ranked by Top Sales Magazine as the Most Influential Person in Professional Selling in Asia Pacific. He is the most read LinkedIn author on the topic of leadership and speaks at conferences internationally, including the Salesforce World Tour event. He also teaches modernized selling within the MBA Program at The University of Technology in Sydney and sits on a number of advisory boards.
Tony is a powerhouse of knowledge and is going to share a variety of amazing tactical sales processes and tips in this episode. Gain insight on the world of selling, tools you should be using and how to be successful in sales.
How To Build A High-Performance Sales Team In One Day
This blueprint shows you step-by-step everything I've used to build and scale sales teams that have sold over $500,000,000 over the past decade.email address to receive news and updates.
Key Topics
How technology is changing the world of selling
Sales tools you need
Unrealistic expectations of buyers
Objections are for amateurs
Negotiation
Action items to shift away from a silent sales floor
Time blocking
Digging deep to find the perfect messaging
How to effectively prospect and sell
Book Recommendations
Cracking the Sales Management Code – Jason Jordan
Interact with Tony
Notable Quotes
"The thing all sellers need to think about is – I'm seeking alignment. I'm trying to find people that fit my ideal customer profile that feel, think and believe the things that line them up really well to be a great fit for us, to be a good client."
"We misinterpret people not responding to us as rejecting us."
"Phone on it's own doesn't work. Email on it's own doesn't work. Digital on it's own doesn't work. Social on it's own doesn't work… To break through we've got to use combinations."
"So long as your narrative is all about them and not about you and they believe they are going to get something out of a conversation, as opposed to a pitch as a salesperson, then you're not an annoying pest, you are someone who earned the right for engagement.
"The number one mistake people make is they try to manage by results instead of managing the activities that feed into the objectives then that create the results."
"Selling is about the transference of beliefs."
"We don't know what channel works best for our buyer so try all of them until you figure out which one does."
"You need to be a true believer. You need to have great values. Buyers aren't stupid. If you aren't all in on what you are doing, people will really sense that. You need to be passionate about the difference you can make in customers lives with that solution you go and take to market."
"You have to quickly embrace the technologies that are changing everything."